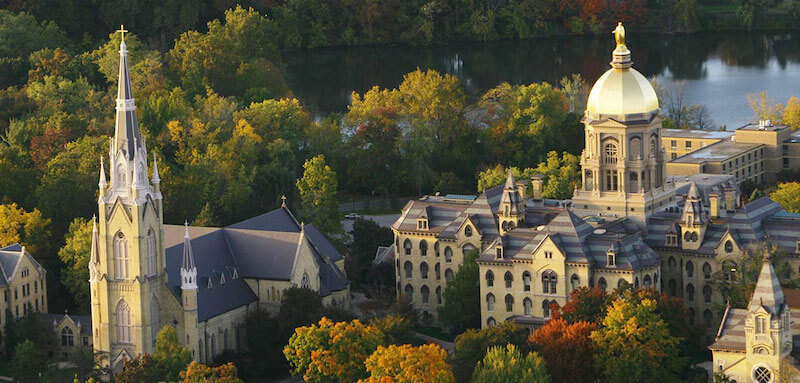 While working with the Notre Dame Mendoza College of Business, MPP was tasked with "filling the funnel" with quality leads for their admissions team. Our work covered not only the main Notre Dame Mendoza campaigns in South Bend, but the Chicago campus programs as well. The expectation was that MPP would reach the right audience for each location and drive requests for information, applications, and ultimately, enrollment.
The Chicago campus came with its own set of challenges. Despite its prime location in Chicago's Loop, the school was forbidden from placing signage on the building. This presented a unique challenge to the MPP team.

A full-funnel solution requires elements of branding, nurturing, and decision. As such, MPP crafted a multi-channel approach that utilized a combination of digital, radio, and out-of-home components, each working in unison to deliver maximum exposure to a diverse target audience.
Digital
We created a multi-channel digital approach that utilized a combination of Paid Search, Display, Facebook, and LinkedIn advertising to drive users to the website as well as generate leads within the LinkedIn and Facebook Lead Generation Objective Campaigns. Paid search and display drove users to websites where they were segmented and retargeted if they didn't convert. Facebook and LinkedIn generated leads "in platform" using platform-specific lead generation options. MPP crafted a marketing plan that included program personas, class makeup, and creatives designed for each of these segments.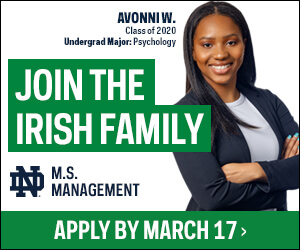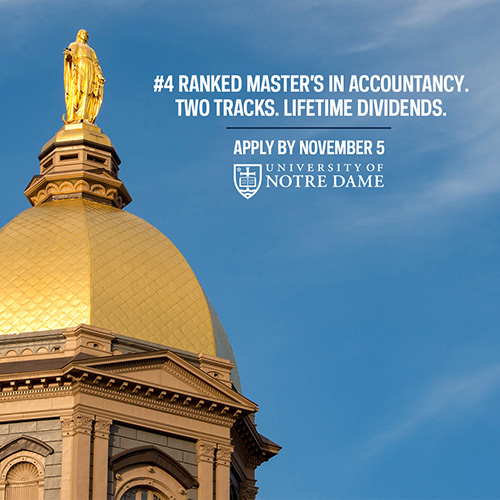 Radio
For the Chicago campus, research, including Nielsen-Scarborough data and market analysis tools, indicated that choosing both Pandora streaming radio, as well as terrestrial radio, would capture the business-savvy, higher-education-focused audience Notre Dame desired. This campaign was extended to include geo-specific messaging across more than 20 Chicago CTA locations.
Out-of-Home
Through our technology partner Cuebiq, we determined if a user's mobile device sent a location ping while located at a Chicago station where one of Notre Dame Mendoza's OOH posters was shown. When this occurred, MPP delivered ads across display and social media while the user was located at the station and after exiting the station, creating a multi-touch messaging solution that was localized.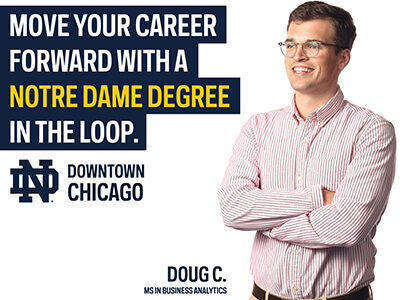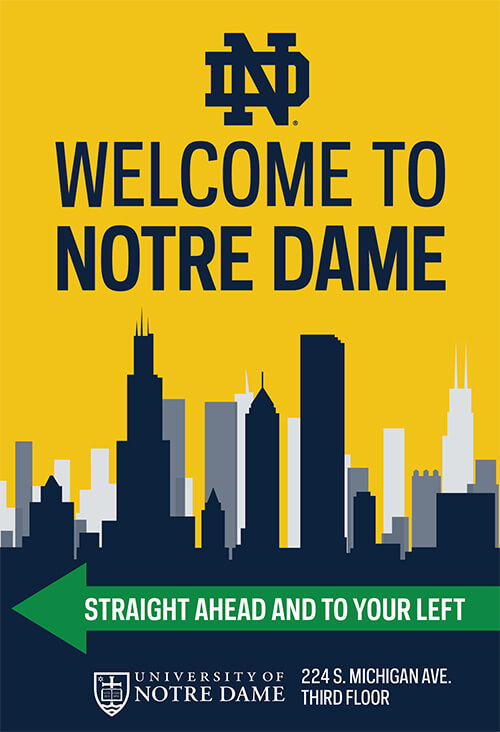 Creatives
Additionally, MPP delivered design work and spec suggestions for the University of Notre Dame. We provided Notre Dame with a large selection of spec work designed to improve viewer perception, create trust, and allow viewers to project themselves into situations at Notre Dame. Based on our spec work, Notre Dame revised several of its creative assets. Those assets played a role in the success of Notre Dame campaigns.
In addition, MPP did hundreds of iterations for Notre Dame programs at scale. These elements supported the entirety of the Mendoza College of Business digital initiatives. Traditional work such as shelter signs and transit boards were also completed by MPP. We provided direction, artwork, and final art. All work was completed in-house at MPP and approved by the team at Notre Dame Mendoza.
Applications tracked through MPP reporting
Website information requests attributed to the campaign
Facebook/ LinkedIn lead generations
While Notre Dame is no longer a client.  This quote from Angela Sienko, Associate Director of Portfolio Marketing at Notre Dame sums up our relationship.
Yours is a highly professional and experienced team, and I am better for having worked with you all. 
I just wanted to make sure you were aware of my gratitude. Of all the agencies we've partnered with in my 13 years at Mendoza, yours has been the most collaborative, patient, responsive, and helpful.
I know we still have some time before the transfer to the new agency is complete. My hope is that you walk away from this knowing it was not because of anything you did. Mendoza has been–and continues to–move quickly into new directions.
If there is ever anything I can do for you, all you have to do is ask.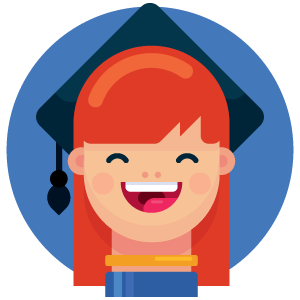 How can we help your business?